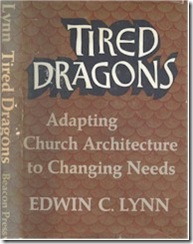 In honour of Father's Day, I thought I would pay homage to an inspiration of my father, Rev. Edwin Lynn, to my interest in Dynamic Working. Dynamic use of spaces where people come together must be in my genes. You see, 36 years ago, decades before carbon concerns, economic crises and intensified pressures of two income families, my father, wrote a book called 'Tired Dragons', subtitled 'Adapting Church Architecture to Changing Needs.'
His introduction could just as readily describe the increasingly outdated fixed and fractured workspaces in outdate office buildings where so many labour every day…
"Once upon a time there were church structures built with dignity, sustained by belief, and strengthened with community purpose. Many of these structures are today's tired dragons, their energies spent, their fire nearly extinguished, their tails drooping."
His words on the simple seating in the church could have been taken out of a business justification for removing all the fixed desks in our office (something my team and a number of units at Microsoft has instituted).
"In the context of order, pews have taken on a theological importance. Their symmetry symbolizes the desired order–not the extreme social order of the pew renters and purchasers of colonial times but the order of religious tradition. However, to sit securely in the pews, smugly oblivious with present changes is inconsistent with a revitalized, meaningful religious belief. Architects have created fancy building shapes and spectacular roof structures, clergymen have inspired changing worship forms. Nevertheless, congregations have refused to change their attitudes, and their immobile seats confirm their rigidity. The obstacles are difficult to overcome. Until the rigid pew structure is changed, the church will not substantially alter its present course. The pews are where the people are, and unless they are willing to alter their patterns, there is little hope for the tired dragons. This does not mean that by destroying all pews we would have a revitalized church; it only means as long as pews are worshiped, there is little hope for a relevant church."
In the world of Dynamic Work, as long as desks and cubicles remained fixed in place, there is little hope for a 'relevant' business.