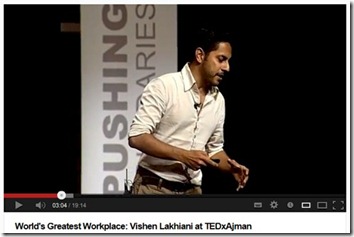 Dynamic Work can take a number different dimensions…time, place, role, contract. But what would you get if you tried to push the envelope on all of these dimensions at once. 'Dynamic Awesomeness' according to Vishen Lakhiani of Mindvalley. His TEDxAjman talk "Building the World's Greatest Workplace" paints a utopian picture not of some pie-in-the-sky thought experiment, but a real, incorporated, profitable, tax-paying business that is pioneering so many dynamic principles at once. And the results are striking.
Time – "We incorporated flexitime. At MindValley you choose your own working hours. You can choose to spend Monday to take the day off to go watch a movie. And then make up for it on a Sunday. It doesn't matter to us."
Place – "You need to be able to give people the freedom to be able to use this space in any way they want."
Role – "We open up the way we run our business to give our employees freedom and power.
Rewards – "Gamification of work"
Truly 'awesome' (a well-worn adjective in their descriptions of work life). A highly recommended TED talk, be prepared to either be inspired or envious.
(thanks Matt)