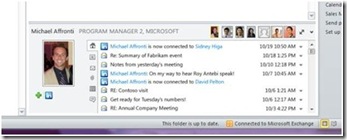 I caught Steve Clayton's piece on the beta release of the Outlook Social Connector. I had hoped that it would finally bring about the 'Where We Are Available' functionality that I have been championing for years now ('Where We Are Available', 'Make Office Better', 'Where We Are Available: TripIt').
It seems to be more focused on info about people's 'background' than their activity and work – "As you read your e-mail messages, glance down at the new People Pane to see the picture, name, and title of the sender. A rich, aggregated collection of information about the sender is included".
It does talk about 'activity' but this information is more about their communications (like status updates) than their logistics. – "You'll see rich information about your colleagues' activity such as profile updates to their MySite, documents and websites they tag, and changes to their personal status message.")
It is extensible through an 'open' SDK – "The OSC in Outlook 2010 will connect by default to the new social networking experiences in SharePoint 2010. We are happy to announce that connectivity to any network, including SharePoint, is built using our public 'provider' extensibility platform").
And the site LinkedIn has already exploited that interop capability – "The LinkedIn team has built a provider for the OSC using our public SDK, providing you with pictures and activity information for your colleagues directly from their network."
Ideally, the SDK and LinkedIn work could go that one step further to an integration between TripIt and Outlook Calendar.