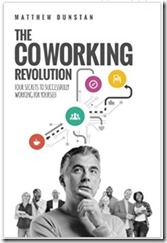 If there is one book to buy about dynamic working on your own, it is "The Co-Working Revolution". A bit of bias confession here. The author Matt Dunstan is, for all intents and purposes, my spiritual soul mate in the dynamic working enlightenment. He and I worked together at Microsoft when the new world of work was emerging empowered by digital tools and connectivity. We were the pioneers of pushing the boundaries at Thames Valley Park. Among other changes to our work practices and habits, our Server Business Group threw out the cubicles and introduced a range of flexible work furnishings in our space (only after a significant tussle with finance and facilities). Matt and I quickly observed the enhancements to the quality of work and work life. When both of us had had enough of the old school Ballmer/Turner regime downward spiral, our new careers were punctuated by evangelism for these new approaches to working. My crusade was Dynamic Work looking more at the organisational level, but Matt's was "Coworking" looking more at the individual level.
Matt's book itself is an impressive piece of writing. Short and conversational enough to be an easy read, but substantive enough to provide countless of insights. Every chapter includes poignant anecdotes, summary bullet points and short checklist tables to aid people in using the material.
His introduction outline provides a useful overview of what you'll find inside…
Use different workspaces to:

'Go to work' at the start of the day and 'come home' again
Remove distractions of hom

Co-work with others to:

Help you stay motivated during the day
Find professional, social interaction
Share wins and knocks
Network more effectively to create growth for one another

Build a team around you to:

Create accountability for tasks and goals you set each week
Tap into each other's expertise to solve business challenges quickly
Bounce ideas off each other and get feedback
Some of my favourite quotes…
"It's not about the [work] space; it's about the people and what you do together."
"Understand the activities that create a state of flow for us and build those into our schedule for the day."
"Competitive threats from your co-working colleagues are generally more perceived that real."
Anyone interested in building "Corporation Me", even if on part time avocational basis, should pick up a copy.