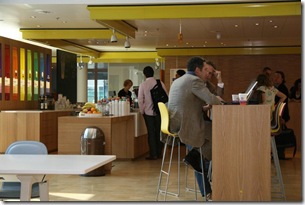 Microsoft has been pushing the boundaries of flexible working for years now obviously leaning heavily on the empowerment that mobile, productivity and collaboration software enable. Last year I highlighted some of the measures that the UK office had introduced which led to it being selected as Mother at Work 2008's Employer of the Future. But the country that is truly trailblazing in this area is Microsoft Netherlands.
Attached below is a round table session that Chief Financial Officer magazine organized at Microsoft's brand new Schiphol headquarters which have been totally revamped around the principles of the New World of Work.
"Inevitably, the radical way in which the concept was introduced at Microsoft Nederland created a culture shock that everyone will have to work through. At the moment, the process appears to be shaping up well. Recently, CFOs from various companies visited the new Microsoft headquarters to talk about this issue and to gain inspiration for their own organizations. Bemused, the finance chiefs strolled around the new building with its designer furniture, bean bags, computer game corner and even a 'relaxation cockpit.' 'We no longer have fixed workplaces, not even for the directors,' says Microsoft CFO Franklin Hagel. 'The 660 people who are employed here are free to decide whether to work at home or at the office. The company provides them with a laptop and a broadband connection, as well as a budget to set up a home workplace that meets the applicable health and safety standards.'"
A more comprehensive study of this whole area using themselves as subjects was commissioned by them with the Rotterdam School of Management Erasmus University, originally at the request of Microsoft Netherlands. The study, 'RSM Research: New Worlds of Work' examined the central question, "Did workplace innovations impact the work dimensions and the multidimensional productivity of the Microsoft the Netherlands" with lots (172 pages) of affirming insights.