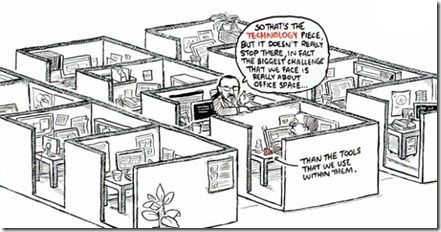 Dynamic Work all started at Microsoft. It stemmed from a convergence of post-millennial technology and business trends I witnessed from a front-row seat. My examination of all business "dynamic" started with executive briefings at the company as well as some of Microsoft's own initiatives, and inspired me to embark full-time on the crusade. Despite being lured back to an executive position, I continue to track the topic and even make the occasional post here.
So it was a bit nostalgic to stumble upon this piece presented by former UK colleague now Chief Envisioning Officer at Microsoft Dave Coplin. A half decade on and the messages are still the same. But the presentation is superbly enhanced by the inimitable RSA animation. A few gems I pulled from Dave's treatment include…
· "Flexible working is about taking control of how you work"
· "Openness of sharing. Open by default."
· "The biggest concern about remote working is 'trust'. And not between boss and staff, but among team members themselves."
One of the reasons I got lured back into corporate life was that Microsoft had de-prioritised this area (making it harder to partner with my Microsoft-centric network). It is reassuring to see my professional alma mater still evangelising these changes in the workplace.