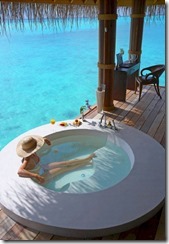 Now that's a corner office!
With remote working the new normal, why not take "remote" to the limit? Why set a fake backdrop to your Zoom meeting, when you could have real paradise?
My other blog covers all things to do with Maldives resorts and today's posts features the quite idyllic desk of the Hideaway Beach water villa. As I noted in the write up, people wonder why I would want to interrupt paradise with thinking about work. I just see it as an investment…by doing 5% work during my stay, I can often extend my stay at least 50% (at 10x return of parardise time).
Just one of the potential upsides of not working side by side.