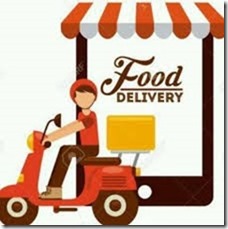 The COVID19 pandemic is turbocharging the "dynamic" aspect of not just work but home life too. Dynamic Work has focused mostly on the production of work remote from the office, as The Atlantic piece "The Pandemic Will Change American Retail Forever" describes, even restaurant dining is moving markedly remote from the restaurant:
"Repurposed means the restaurant of 2010 isn't going to be the restaurant of 2025,"'O'Connor said. 'The pandemic is going to accelerate the shift to contactless delivery of meals, groceries, and products of all kinds.' As more restaurants recognize that they cannot make rent by filling hygienically spaced seats, they will become, simply, for-profit kitchens—a place where food is prepared but less commonly eaten. Once again, this shift was already happening slowly, but is being accelerated by the pandemic. Last year I wrote that given the growth of so-called "off premise" dining, 2020 would likely be the first year that American restaurants made more than half of their revenue from delivery, drive-through, and takeout. Nobody could have predicted that this milestone would be reached due to the absolute zeroing-out of on-premise dining."
Derek Thompson refers to the "The Big Acceleration" – "the long term, COVID-19 probably won't invent new behaviors and habits out of thin air as much as it will accelerate a number of pre-existing trends." The Dynamic Work (and Dynamic Wok) megatrend coming to the fore with alarming speed.