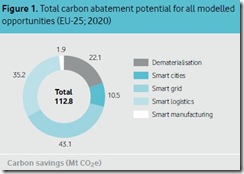 Accenture and Vodafone collaborated on a report titled 'Carbon Connections' which looked at a range of business strategies for carbon reduction. Given Vodafone's mobility focus, the report naturally centred on a number of distributed and remote working scenarios…
Dematerialisation – replacing physical goods, processes or travel with 'virtual' alternatives, such as video-conferencing or e-commerce (online shopping):
Mobile telepresence – connecting 'virtual meeting rooms' to mobile devices would allow workers to join conferences from anywhere
Virtual office – using wireless telecommunications products means people can work remotely or from home
Mobile delivery notifications for e-commerce – businesses can use mobile communications to contact customers for more efficient order placement and delivery.
The last three are pretty conventional and the report has lots of good material on these topics. But what really caught my fancy was the concept dubbed 'dematerialisation'. What a great poly-syllabic buzzword for the 'anti-neutron bomb' approach to downsizing.